Nervous About Presenting? You're not alone...
3000 Americans were asked:
"What are you most afraid of in life?"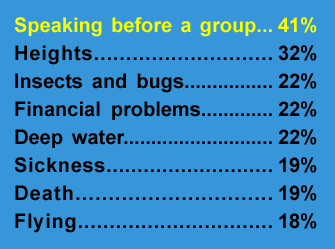 Better Presenter is dedicated to helping Southern California business professionals communicate their message with confidence and clarity. And, because business professionals are busy, we deliver results in just one day.
Think about how giving presentations that move an audience could make your job easier and enhance your career. Imagine learning new sales skills that allow you to develop better customer relationships and generate more business. Learn more about our core training programs and our free follow-up coaching for graduates.